Our adventures in flying went off without a hitch. We left home a little later than I had planned, but the long-term parking at the airport worked like a dream, so that helped make up for the lost time. When we found our check-in area, the line went all the way back into another section of the airport. Fortunately, the line was moving quickly, so it only took us about 40 minutes to get checked in. Security was easy as pie compared to last time, so the whole process was as painless as an international flight at xmas-time could be.
Unfortunately, there were several pissed-off babies (POBs) on our flight. Once they screamed themselves into exhaustion, we were all able to have a little peace and quiet, but then occasionally one would wake up and get started again. Luckily, that didn't seem to set off the others. One mother was traveling alone with 2 small kids, one of them belonging to the pack of screamers. Except hers also thrashed and kicked and went boneless and threw herself backwards. John was sitting at the end of their row and got the impression that POB wanted Da-da. The poor mom was so wiped out from wrestling with the POB that as soon as the kid fell asleep, she did, too. The non-POB entertained herself the whole time with a cup, a water bottle, a book, and napping. John bets that the first thing her mother does when she gets off the plane is to punch the father.
We saw most of the smaller kids over the course of our flight, either wandering up and down the aisles alone or being walked by a parent. My favorite was this grumpy-faced tyke wearing a perpetual scowl.
While we were waiting at the gate, Hannah passed the time by composing a musical, "Nice Mice—We Love Cheese." All the songs were about how nice the mice were, and how much they loved cheese and no one could change that. She envisioned 2 grown-ups in mice costumes in the lead roles.
The air on the plane dries me out like a starfish on the beach, but I was so paranoid about the stupid new rules that I took the travel-size tube of lotion out of my backpack. The semi-frequent but tiny drinks from the airline just didn't cut it in the hydration department.
I don't know if it is a German-US thing, or if the airlines have just loosened up in certain respects since the last time I flew 2 years ago, but the flight attendants on Lufthansa weren't as, um, glossy as the American Airlines FAs. They weren't schlubs by any stretch of the imagination, but they didn't look like they had been shellacked as part of their pre-flight routine, either.
Also of note on our flight: the Norwegian woman with sleeves that might have been caught in the escalator at the airport. It's the only way I can account for the shreds of lace hanging from her wrists.
I wrote the above while on the plane to Texas. I didn't write a single word between then and now, so my recollections of all our visiting isn't quite as precise. We stayed with my dad the first and last nights, and in between we managed to visit in *8* other places. I have photographic evidence up at
Yahoo
, labeled "Xmas 2006", Stops 1-7. We saw lots and lots of people, but it would have been nice if we had had more time to spend with them.
There hasn't been any news regarding John's side trip (you know if you know), but feel free to continue with the finger-crossing for now.
Some kid highlights from the trip:
Our niece "Chicken" is addicted to the old coin-ear trick. When asked how the coins got in there, she replied, exasperatedly, "It's magic!" Well duh, Aunt Nee! She only cares about the trick, not the cash, so afterwards we kept finding "ear money" lying around.
Another niece, "Fall", is, um, selective of hearing, so it took a couple of tries to convince her that crawling on the back of the couch that stands in front of a window was not a good idea and she should get down. Her brother remarked that she was a big butt-head at home. Me, disbelieving: "Fall, are you a big butt-head at home?" Fall: "Yep." So there you have it.
John cut his hair. He's a damn good-looking man, isn't he?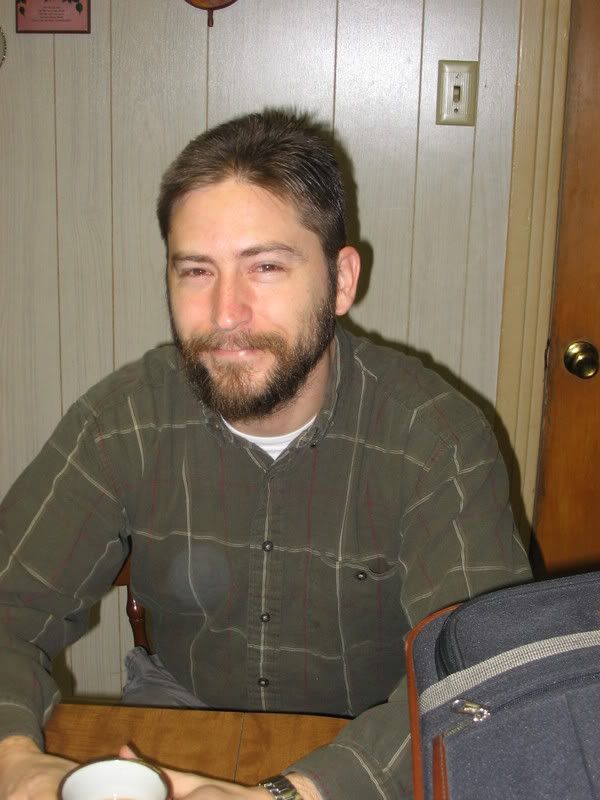 We couldn't come up with a better idea than the JC Penney hair salon for the doing of the deed, so while he made his donation to
Locks of Love
, me and Hannah and Mom and JC roamed the mall. After we had traversed the whole length of it (it's a small mall), Hannah said, "This place is full of crap no one wants to buy!" Indeed.
The trip back was almost as uneventful as the trip over. Our stupid e-tickets did not indicate that NO lunch would be served on our noon flight (there was no meal info for any of our flights), so we were kind of hungry when we got to Dulles, but some hot sandwiches fixed that. John was bummed that he did not get to eat at Arby's and only once at Taco Bell, but such is life. Then on the trans-Atlantic leg, Hannah spilled her drink on John's lap, and I lost the stylus to my Palm PDA, a tragedy that brings tears to my eyes even now, 4 days later. Here is the ersatz stylus I came up with, but it pales in comparison to the real thing.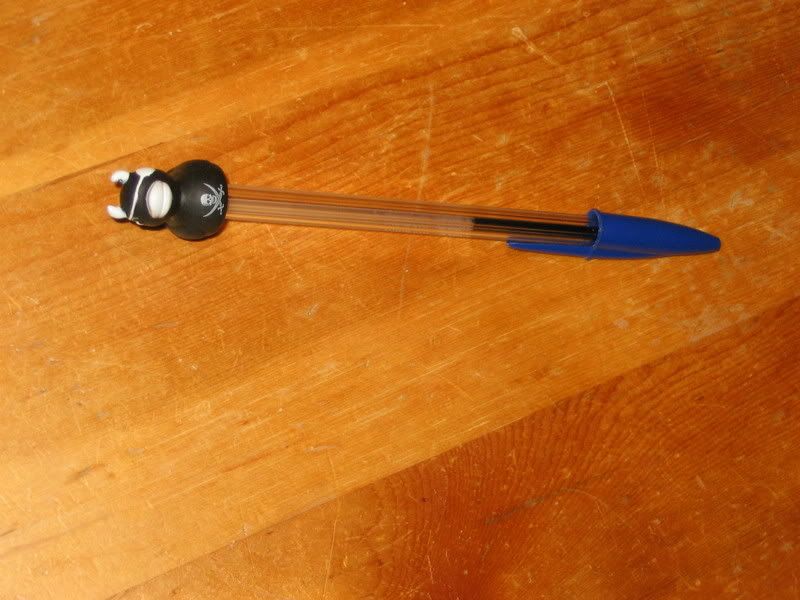 Yes, that is a duck pirate (or pirate duck, if you prefer) pencil topper. Hannah didn't want it.
We haven't had too much jet-lag, but the twinge in John's back after the trip (probably from toting four 50-pound bags up to our third-floor apartment) has developed into a crippling like the one he had on our last trip to Texas in
2004
and last
spring
. He looks like an unbent paper clip.
As I knew would happen, Hannah was unable to keep track of all the presents trickling in over the course of 2 weeks of visiting. Her great-grandmother firmly believes that "Xmas present" = "clothes", so we made a trip out to Sears with her to pick out our presents. Which is where Hannah had a bit of a meltdown: "Everyone else gets cool stuff, and I only get socks!" (n.B. No socks were actually bought at Sears.) This prompted a visit to Super WalMart (Ack! My soul! It burns!) to spend up the Xmas largesse from various family members. We mainly invested in DVDs; I was on the verge of opening them all before packing so customs wouldn't think that we were starting a DVD-smuggling ring, but it was too much work. They didn't seem to bother Homeland Security when they opened our box and one of our suitcases.
I also ponied up for some sports bras with spaghetti straps. I have been considering going bra-less for some time (damned plastic bits on the straps of my beloved
training
all-cotton bras!), but the fear of nipplage has held me back. I also have a great fear of German department stores after the Snoopy-panty debacle of last fall, so our Texas trip was my first chance to look for an alternate form of chestal coverage (not having what could properly be called a bosom). Anyhoo, props to Fruit of the Loom for their excellent work in ladies' under-apparel!
Before I got off track, I was going to mention that Santa left Hannah a note in her stocking that he was delivering her present to Germany and it would be there when she got back.
She hasn't even had any lessons yet (or a music book, for that matter), but she's already composing her own music with the help of stickers she numbered herself.
We managed to convey our wealth of xmas gifts back to Germany with minimal breakage; even the 18-by-24 picture frame (with glass!) and 4 place-settings of Corelle made it through unscathed. See?
My earlier, pre-trip comment that winter had arrived in Germany seems to have been premature. Winter only paid Germany a brief visit before jetting off to settle in for a long stay in the NW of the US, I would guess. Since we landed on Sunday, it has hovered around 10C (50F) and has rained off and on. You can
check out
the difference between this year and last year by clicking on the third link in the article, "Foto-Serie: Winter '06 und '07 im Vergleich". The pictures in 1-8 are of the same locations, the first in each pair from last year and the second from this year (1-4 in Bavaria, 5-8 in Berlin); 9-14 are all from this year.
And on that note, I'm going to bed to the gentle pounding of the rain.