It may seem that I've been hiding under a rock recently, but I have actually been kind of productive, in a boring, not very bloggable kind of way. I jumped ahead on my to-do list and ordered a new under-the-sink trash can. On runners! We're way hi-tech around here.
Hannah and I planted flower seeds, which are not looking so hot at the moment, but at least we tried to start our spring gardening.
I bought a garden gnome. He is ceramic instead of resin, which I like, but he is a little more Disney than I had planned on getting. But he is still many-times better than some other ones I had seen at the garden center, and he only cost me 8 bucks at the grocery store. (Many thanks to Hannah for spotting him on an aisle I wasn't planning on going down.)
I have prevented John from microwaving a bowl topped with a lid edged in metal. I don't think he is on any medication, but I am starting to worry about him.
I have done some proofreading and bibliography-cleaning and bibliography-building, so I am definitely getting my hours in on my student job.
I have been soaking in new episodes of Avatar. Last Saturday Nick showed all of season 2 in the run-up to showing the first episode to season 3, and every night this week (and through next Tuesday, according to their web site) they'll be showing the new episodes, in order. By next week, we'll be caught up with the episodes that have aired in the States. Of course, sometimes Nick stalls out around then and starts re-showing earlier episodes before getting to the end of the new season, so I will have to wait and see what the new schedule looks like when it comes out online.
Despite the icky weather recently—and Spring is supposed to show up by Sunday, if you can trust the weather man—lots of flowers have come out. My favorites are purple, and the color is like a zap of electricity to the brain via the optic nerve. I read somewhere that purple is supposed to be an energizing color, as opposed to pale green being soothing, and it definitely seems to be true for me. Here is a picture of some lobelia.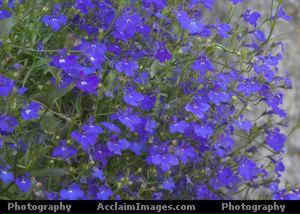 While in Loosiana, we stopped in a mall in Monroe to buy jeans. We were hungry, but I just couldn't bring myself to eat at Food N Food. Do you think they sold food? If I were a little more country, I might have gone into The Camouflage Shoppe, but the extra –e made me feel that there should have been more dust ruffles and tea involved than I saw on display. Not that the camo baby clothes and taxidermied toys weren't cute.
This brain dump has been brought to you by the letter M and the number Z.